Just like rock and roll.
Thank god for new inventions.
Check out my eye bags . and ignore my messy hair.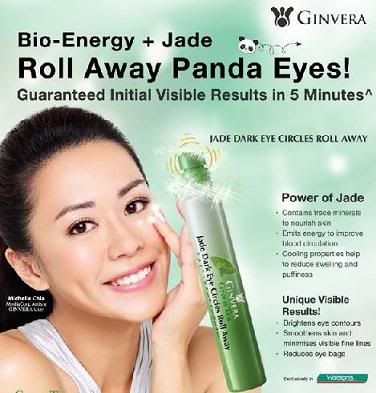 Recieved this Ginvera Roller.
I was really all excited by these products.
Just offering a fact :
i sleep an average of 3 hours per day, or sometimes if i'm lucky, a little more :)
Review:
Upon rolling it in a direction, it really feels damn shiok!
It's freaking cooling.
And it just provides the moisture that any skin would ever ask for!
After applying, slowly using my fingers to dab and allow the essence of green tea to be absorbed.
THE BEST THING IS,
you can use the roller to massage which i swear,
is 超爽!
you must be thinking,ewww!
Keep using the same roller not disgusting ar?!
NOPE, apparently it provides a certain energy to prevent any bacteria growth!
The only thing is,
the effects aint really that obvious, or i'm just sleeping way too lil.
Ginvera Marvel Gel
I thought that it would be better to test it on my hands cos it really gives a freaking awesome exfoliation!
It apparently exfoliates and even whiten skin leaving it all bright!
All the SI PI! DEAD SKINS!
All i can say, is
I LOVE MARVEL GEL!
BYE BLACKHEADS.
I HATE YALL.