Wednesday, December 30, 2009
IKNOWWHATIAMDOING,SOTHISPOSTGGTOBEDEEELITUD.
I am feeling , not-in-the-mood this few days.
Fuckedup. fucking crybaby.
Posted by

Jolene Crosses
at 12/30/2009 03:34:00 AM
No comments:


Monday, December 28, 2009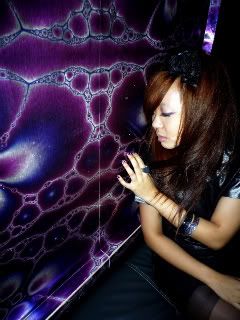 It feels kinda odd to blog recently.
Havent been doing this habit for such a while.
And i feel like no one is there to relate.
School's great today,
you know why?
BECAUSE I WENT SCHOOL ONLY FROM 9am to 11am.
I'm hesitating if i should snip my hair off.
I really want a change, but i'm having this sense of insecurity and it suck that bad.
All i need now is a tight hug from you love.
How i wish you could be here with me.
All this laments and all.
Pregnant women doing breakdancing.
This flashmob is one of a series happening in Paris, Berlin, Utrecht and across Canada to highlight the scandal that millions of women in poor countries and around the world aren't getting the healthcare they need for a safe and healthy pregnancy.
Someone, just help me stop this sucky shit phase.
Posted by

Jolene Crosses
at 12/28/2009 08:02:00 PM
No comments:


Sunday, December 27, 2009
Emotions, and emotions. All in them eyes.
This is all in a day. ONE DAY.
Crystal's 17th!
I had such a tough time celebrating it w her myself! :)
Treated her to fish and co:
And all these while, i was hiding a cake from her!
And i lied that it's my working shoes!
Let the pictures talk :)
This is super shatterable!
(L)
WE ARE SO CUTE ,I SAY.
Yes, We Extreme Camwhore!
and this is our secret hangout!
Without swine, CHUARUTING!
I'm so gonna bring Martin here next time when he's back.
and a place that Timcus keep recommending.
hee hee .
Posted by

Jolene Crosses
at 12/27/2009 10:53:00 PM
No comments:


Haven been to zoo since i was like primary two?
And it really change damn alot!
I still remember myself in short spikey hair , holding my daddy's hands.
And there was this place fullllllllll of balls and a slide.
I went with someone, different and special.
Posted by

Jolene Crosses
at 12/27/2009 09:21:00 PM
No comments: