Happy Birthday Adidas!
The house party was held @ Timberlux Warehouse.
& I spent like 5 minutes in the cab ard havelock rd,cum zouk area to look for the place!
waste $$.
but well, the driver was pretty nice.
They set up the place so damn styled and nice!
There were vespas, shoes,food , drinks , good music..blah..
The decoration concept was just so amazing!
Style man!
Oh yae, the Dj was in a "shoe box"
Pretty Pillars.
Anw, if i aint wrong,
The occasion was celebrated by other countries too @ the same time.
I can only remb Bangkok and manila.
Cool man.
*
*
Btw, dont grab any pics.
Mind your hands rot ar!
*
*

Upon Arrival of
:
:
:
:


EDISON Chen!
(girls, i know we dont melt now...)
WE DECOMPOSE MAN.
okay, i dint take this pic luh.
If i am able to go that near to him , zomg.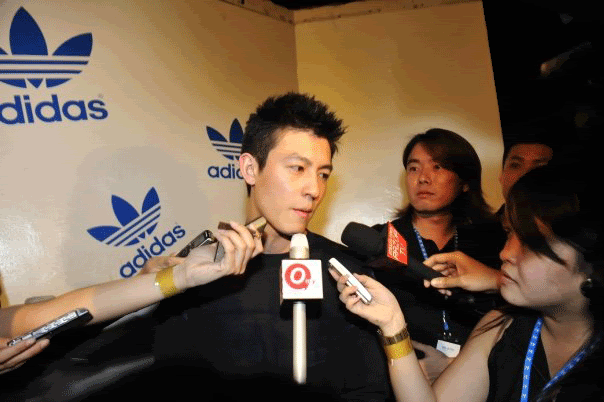 But my sist DID!!
Look at how intense he was looking @ her. omg.
-Totally envies right!-
Everyone whipped out their shuttles!
*snaps snaps*
Guess what, this was what i captured in attempt of ZOOOMING IN and trying to SNAP EDISON.
lol.
wooohooo~
I left @ ard 11.30.
Such a good baby i must say!
saw a senior blogger , will nt really label her as famous luh,
since quite alot of my personal frens dont know who she is.
She looked pretty snobbish & pretentious in real life man.
like quite 恶ed.
well, she's not a blogspot blogger btw :)


Hecks bout her , get a life.
well, pple you dont have to guess who she is.
I'm not stating it in the post which actually means that i wont reveal it la.
:)
Bye!
Eveyone says such funny yet pretty nasty stuff bout edi.c.
Nicole Chen is hot.
(okay, i know this is random)
EDISON IS OMFG DROOLING SEXY.